Thanks for all the comments, guys. I'm glad I posted the question, as you addressed my biggest concern: this is easy to fix if necessary.
I did manage to take two pictures with better lighting outside today. Adam: I hope this will directly address your question, along with the following text, even though I could not get a direct edge shot: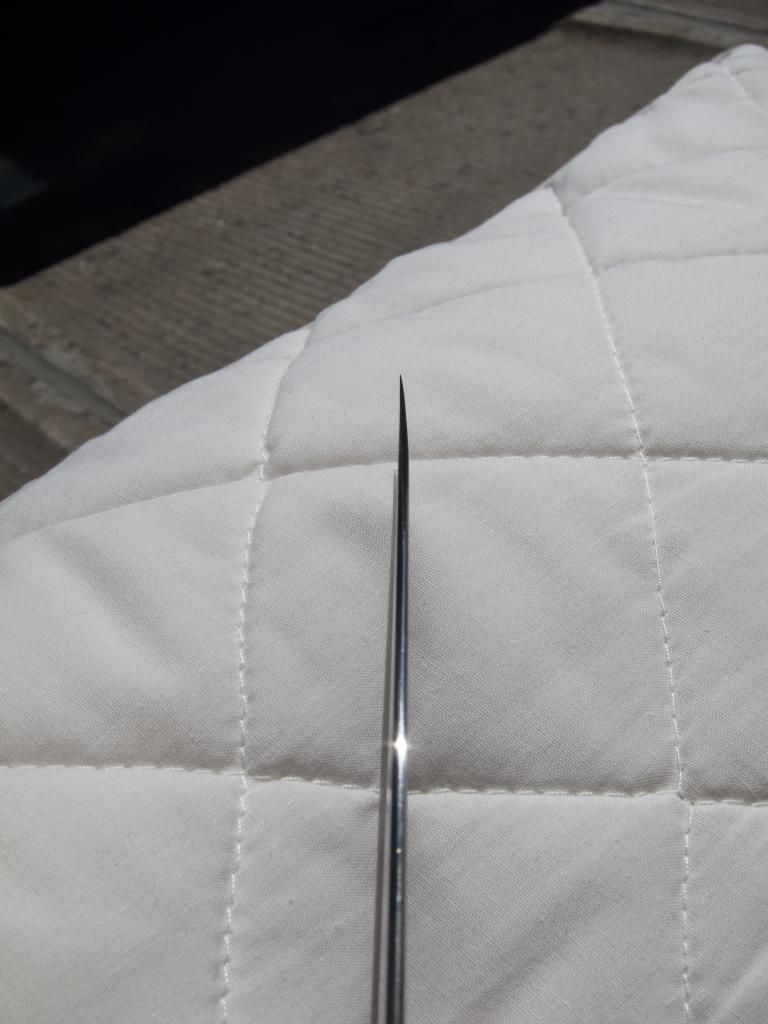 The bend looks kinda like an uneven distal taper on the spine, but the effect on the edge is very minor at best. If you step back and look at the spine carefully, you can see a gentle bias towards the tip that increases for the very last bit. The best way to describe it, upon further reflection, is to say it is like an asymmetrical grind on an 80/20 blade: you'd expect the grind to be 50/50, but then you notice it is flatter on one side than the other. Here, the distal taper on the spine looks very consistent for most of the blade, but if you start to move it side to side (by rotating the handle) and focus on the consistency of the spine on one side and then the other, the distal taper starts to shift, and looks like it was done more on one side of the blade/edge than the other...and this effect appears most obviously towards the tip, and most aggressively in the last 10-15cm, where, at some angles, it actually looks like a slight bend in the spine. Like an asymmetrical edge, it does not appear to effect the actual edge in any real way. Weird, I know. It is like an optical illusion. From some angles, it looks straight, but I swear that at another angle, it looks bent by 1-2mm!! It changes based on whether you can see the zero grind side as the reference point, or if you can only see the "longer" or "curved" side as the primary focus point.
All of this comes from the simple fact that the variations in hand-made tools are expect and welcome, but can still prompt us to wonder. I'm sure I sound a bit weird in my posts above (perhaps even like a finicky idiot), but it is hard to judge the degree of such features without actually using the knife, and in the case of online stores like Mark's, it is always suggested that one make the decision to keep or exchange the product before, rather than after, use.
Anyways, I appreciate the serious and considerate feedback despite the ambiguity and unusual nature of my original posts.