Sun Aug 12, 2012 3:14 am
.....the eventual arrival of the cute M390 sibling parer sitting proud with daddy Gyuto.......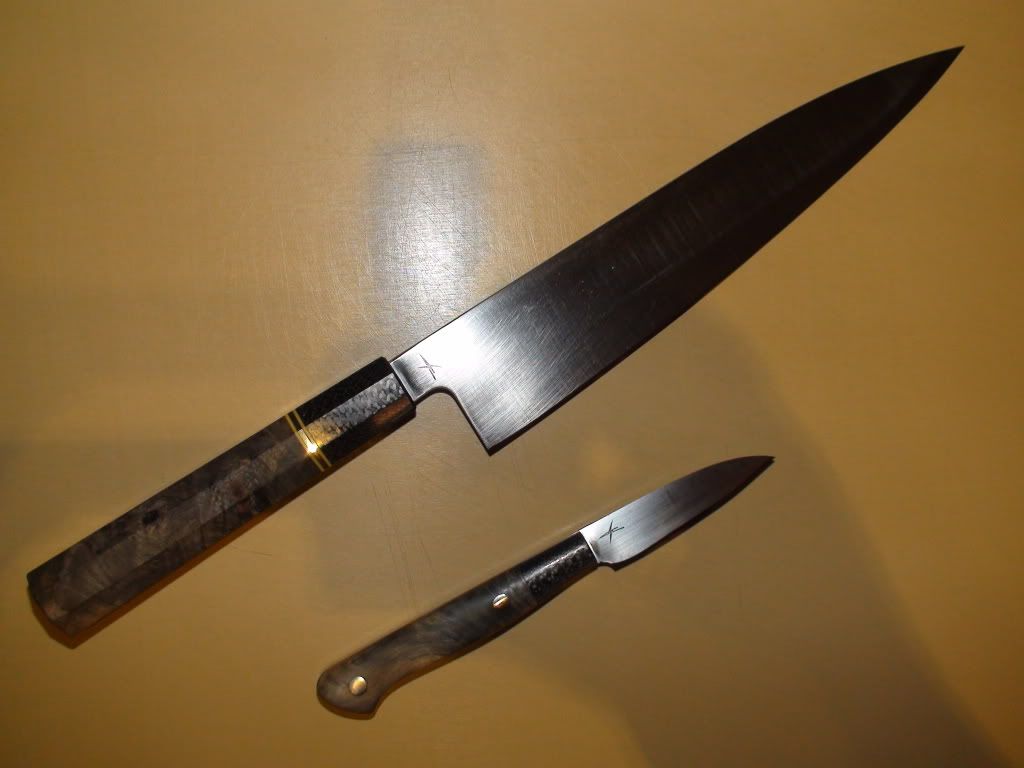 Sun Aug 12, 2012 3:20 am
Me likey!! Digging the Carbon Fiber for the ferrule!
Sun Aug 12, 2012 6:23 am
Nice looking handles!
Mon Aug 13, 2012 9:55 am
Very nice!
Fri Aug 17, 2012 1:42 pm
i dont think ive seen a metal ferrule before. or maybe just not noticed it but this does look sheik
Sat Aug 18, 2012 1:24 pm
...the ferrules are solid woven carbon..........
Wed Aug 22, 2012 10:39 am
do you think M390 would be good to be used as a beater (with honor, of course)? I am referring to the possibility of getting an artifex in M390.
I am a home cook and can live with an edge that's not the sharpest. I was thinking if I can use it for whole chicken and fish in addition to the regular tasks, I can keep my arsenal fairly compact and keep my AEB-L only when the sharpest is needed. I am asking this because I feel if I use AEB-L to touch bones, the edge will be damaged enough that I feel the need to sharpen. I just kinda miss the time when everything was done with one knife (well, very unpleasantly then). and I don't want my guests scared from seeing too many knives on the mag strip.
Wed Aug 22, 2012 12:02 pm
...you what...????
Any knife in M390 can never be labelled a beater.
....and M390 gets just as keen an edge as AEB-L.
You can do it all with one knife - just put the correct edge on it.
...compact arsenal.....you kidding me....
Wed Aug 22, 2012 4:55 pm
ok, beater would really be the wrong term. more like a M1A1, high tech, yet can shrug off incoming shoulder fired rockets with ease. I will treat it as a friend, not as, well, a girlfriend...

so what angle do you recommend? I need it to go through the smaller chicken and fish bones a couple of times a month without having develop a burning desire to sharpen it. btw, do you think a bester 1200 is good enough for M390 as a mid range?

if you don't think M390 can stand it at 15 degrees, I can just get a VG10 cleaver for that.
Wed Aug 22, 2012 8:21 pm
ROOK <>
Pretty for sure...