Tue Mar 25, 2014 8:48 pm
Here is a Wade & Butcher razor that is left in original condition. I have honed it but left the original scales on it and left the patina on the blade. No heavy polishing has been done except for a bit by hand with flitz. My question is has anyone seen any others EXACTLY like this? I know the celebrated for barbers use is sought after, but not extremely rare. There is something different with this one though. This is the only one that I have seen like it. I won't reveal what it is unless anyone else doesn't catch it. Some might not think it's a big deal, I think it's kind of cool.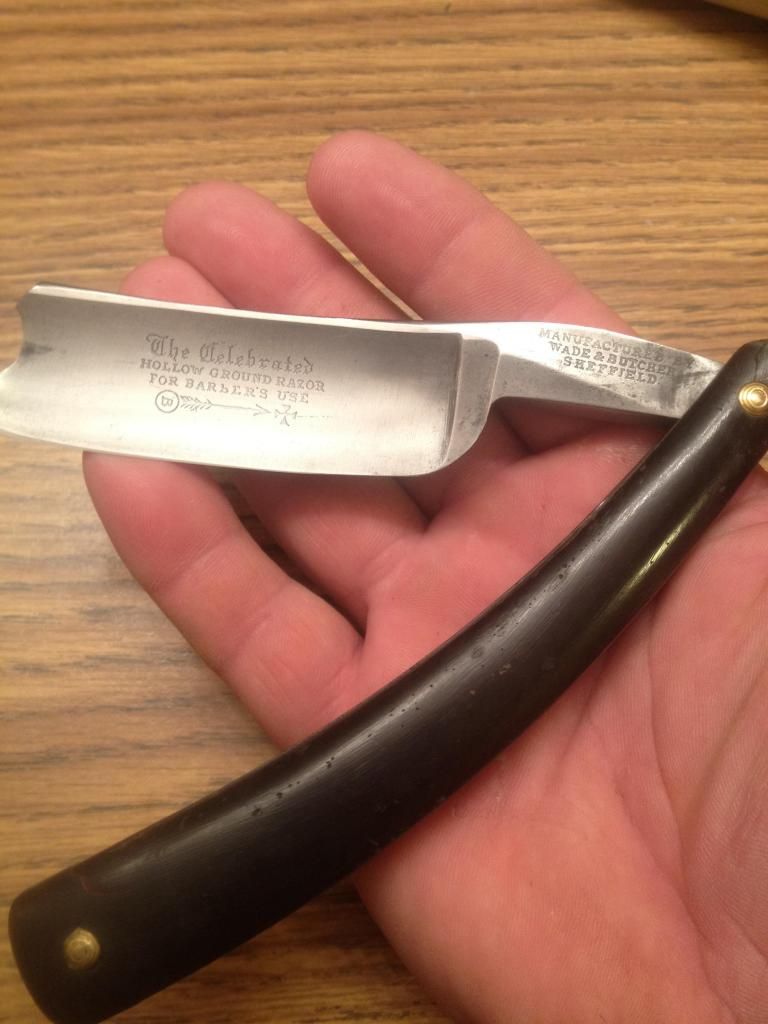 Tue Mar 25, 2014 9:52 pm
Cool looking razor! Nice find!
Fri Mar 28, 2014 7:18 pm
O.k. either no one sees it, no guesses, or no one cares.
The difference with this one is the second b in celebrated is also supposed to be a capital B. They are supposed to be all capital letters. Its as if the engraving on the b was never completed and left as a lowercase. I have looked at it under my veho and it has not been ground on or polished. It left the factory this way. I think its pretty interesting and it makes me wonder what process they used to engrave the blades and how this was missed. I havent seen another one like this. Anyone else?
Fri Mar 28, 2014 11:43 pm
But there's only one b in "celebrated", now "Barber's", that's a different story.
Sat Mar 29, 2014 5:00 am
You always make me laugh. Yeah, brain and typing was not working together. Guess I should have re read it. Now if it did, that for sure would be a rarity !
Tue Apr 01, 2014 6:04 am
Great looking razor!! It could be missing a 'b' and still be an outstanding shaver. I have an FBU but not the celebrated one. Looks good. I prefer to leave some of the patina on my old sheffields where possible. IMO it adds character to a fine old shaving instrument

Chris
Fri Apr 11, 2014 10:20 pm
Looks great, How does it shave?
Sat Apr 12, 2014 9:47 am
Shaves great. Love the grind on this one. I am gravitating towards the "more hollow" end of the spectrum. I have a few near wedges I think I need to thin out of my rotation.
Sat Apr 12, 2014 9:48 am
Any Swedish wedges?
Sat Apr 12, 2014 10:07 am
No Swedish. I have a nice wolstenholm celebrated xl. 7/8. Sheffield steel I'm thinking about listing. I've got my eyes out for some of those though. I'm finding I prefer hollows or full hollows.