Sat Jul 28, 2012 1:52 pm
Just sharpened my personal 1923 nogent sabatier 9 inch chefs knife with a ebony handle sharpened with nothing but Arkansas stones starting with washita and finishing with a translucent. Pics of stones will follow. Peace and goes to show never forget your roots and don't underestimate the power of the Arkansas stone.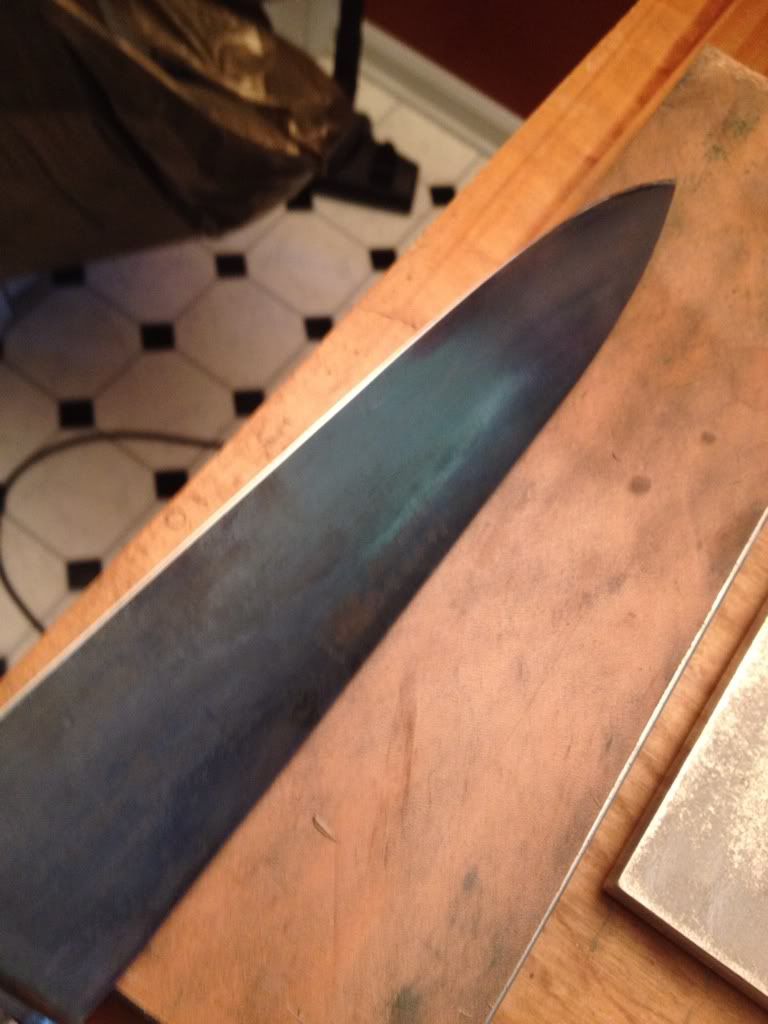 Sat Jul 28, 2012 1:52 pm
Sat Jul 28, 2012 1:53 pm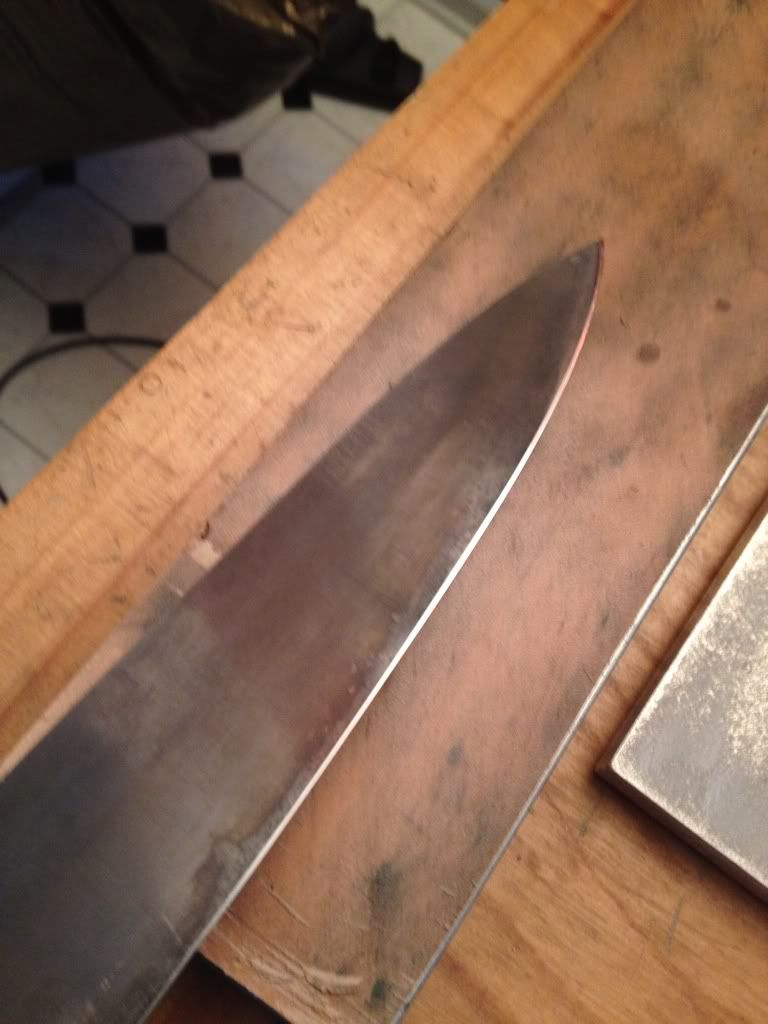 Sat Jul 28, 2012 1:54 pm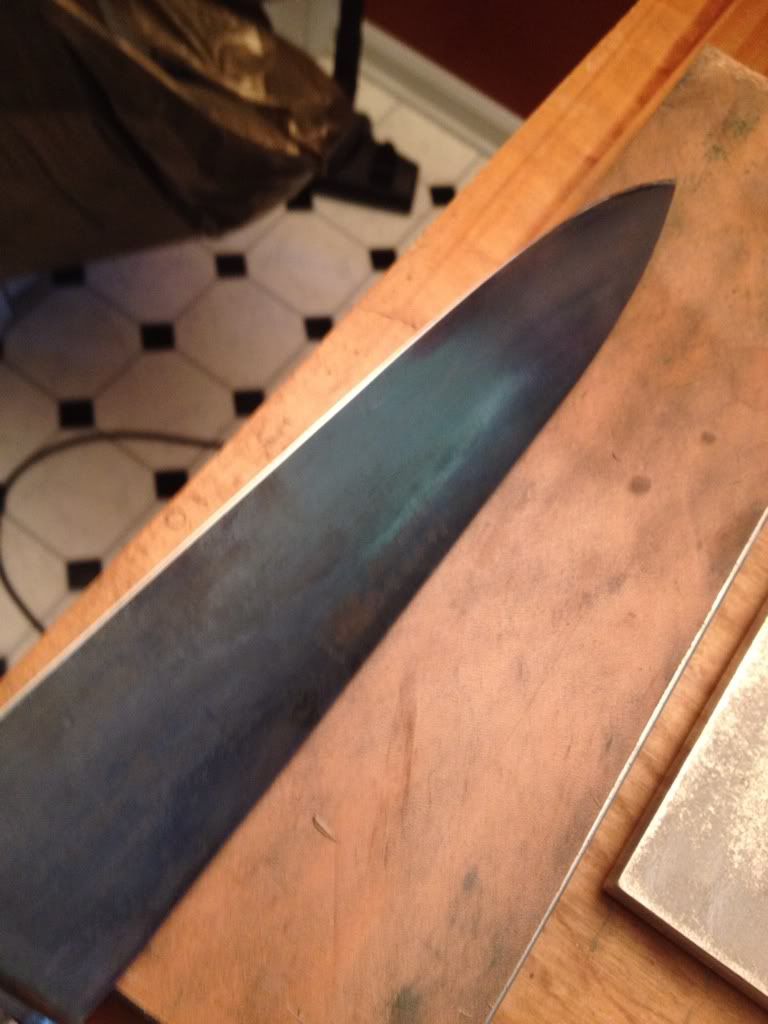 Sat Jul 28, 2012 1:54 pm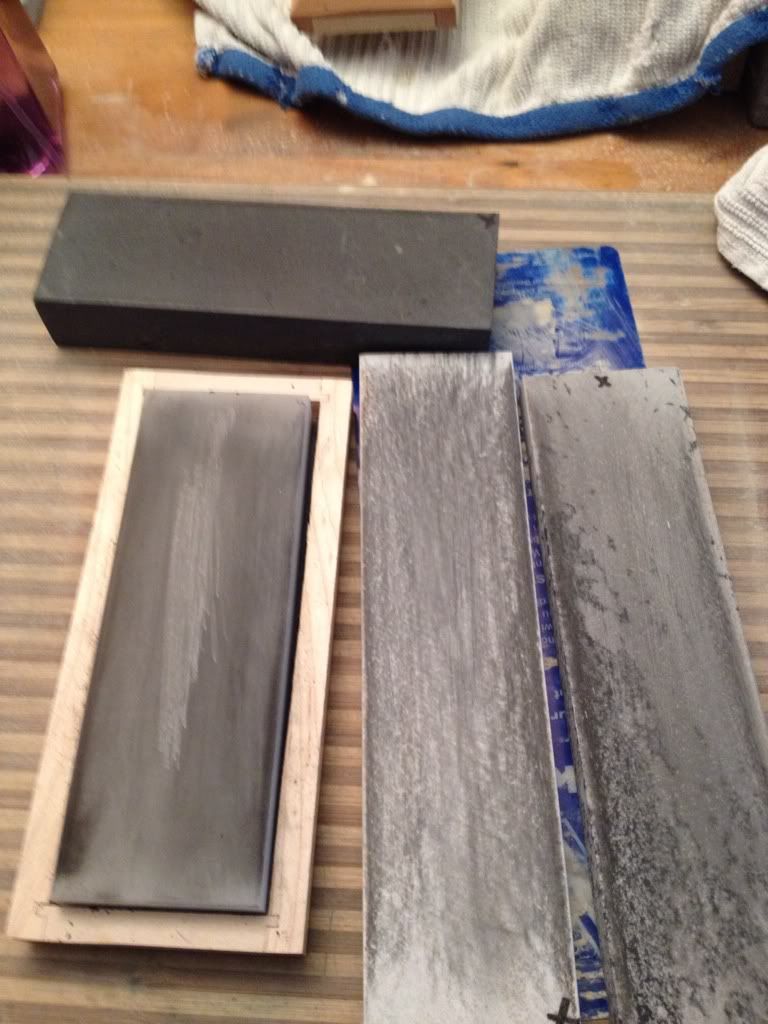 Sat Jul 28, 2012 1:59 pm
On the last shot the swarf is seen and the work involved, would Japanese whetstones been faster? Yes but it's not the same feeling when you cut with a knife from 1923 sharpened with Arkansas, I would imagine they used cotuicles back in the day, if not someone please correct me but I don't know if they imported arky's then to France or maybe their is something similar over their, anybody know if their is any truth to that? Peace to all and I hope you enjoyed the history i sure did. Jmbullman
Sat Jul 28, 2012 2:01 pm
Forgot one. Woops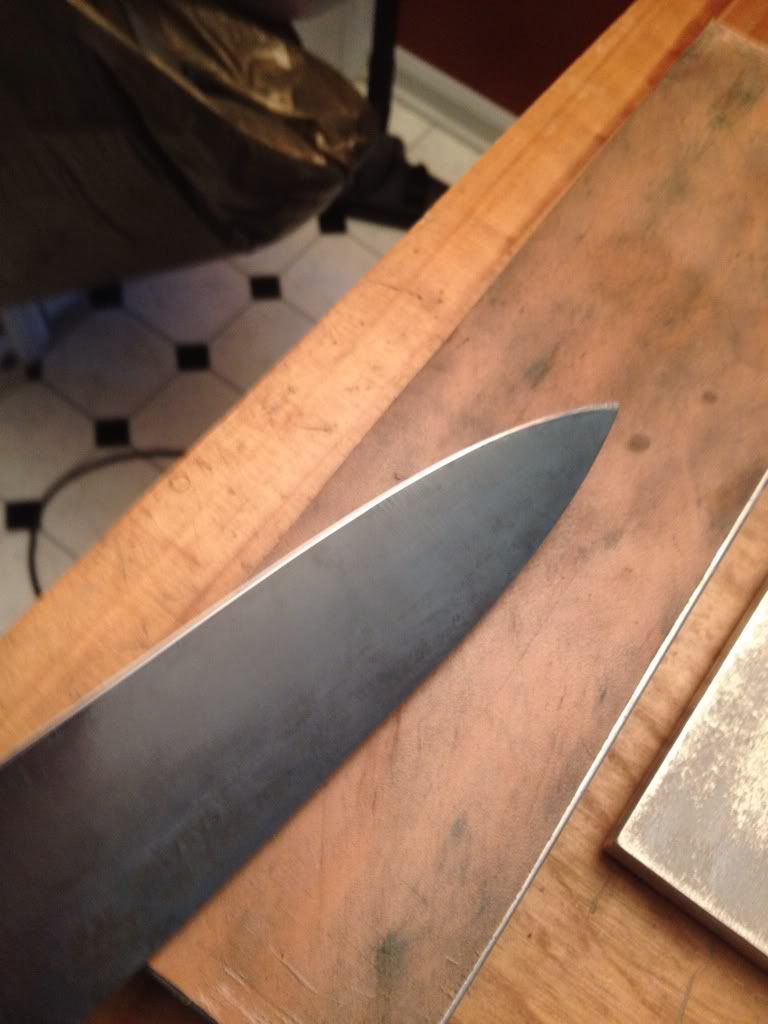 Sat Jul 28, 2012 8:13 pm
So do the Arky's really work better dry? I know you said that once.. and I see the stones have lots of swarf clogging them. How long till you need to resurface them?
Sat Jul 28, 2012 8:33 pm
I either run them through the dish washer or take a brass brush and some bkf and good to go. I have only had to resurface if that's what u want to call it once and that was the hard one and an orbital sander took care of it. A gentleman who was the pioneer or actually wrote the first book on sharpening back in the 70's I think it was called the secrets of sharpening probably wrong with that title but he did a indeapth study useing oil water and dry the dry turned up the best results and the ones with oil and water actuall scratched more go figure. Their was a big debate on ff a couple of years ago about that and index the article and the guy was rife. Believe it or not they look loaded but were still cutting pretty well. He proved the swarf build up was worse with liquid than dry and the cutting power was lost. The most overlooked stone is the India stone it comes soaked with oil but a trip through a hot boil and dishwasher takes care of that and an India stone especially the (fine) cuts as good as a dmt extra course every time, works great on cpm154. And for people out their questioning my knowledge (not you Shaun) I learned this from bdl and kcma. For me I will always use mine dry but some people will use oil or water and that's fine too, but you can look at my edge on that and it ain't half bad. Btw I had already cut two pocket knives the week before on those and didn't clean them and u can still see the cutting power. Peace to all and if I can remember the exact name of that book or find that article I will post it. I do know it was first published in the 70's and it was a red/orange cover. Sorry that's the best I can give rite now and cleaning with bkf and a wire brush takes about 2 mins per stone five or take. Peace guys jmbullman
Sun Jul 29, 2012 4:07 am
John Juranitch advocated dry over oil, is that the guy? His book was 1985 or so, called The Razor Edge Book of Sharpening.

That's a great looking edge on a classic knife. Well done, sir.

R